Eid al-Fitr is like a light at the end of the tunnel, signalling the end of a spiritual marathon that is the holy month of Ramadan. As a Muslim, it's a time to celebrate, feast, and share joy with loved ones.
But this year's Ramadan almost caught me off, guard. I was on a lightning-speed train and missed my stop before I knew it. I wrote about this in my last post, 'Managing Blood Sugar Levels During Ramadan Fasting: My Experience'.
Life has been a whirlwind lately, with time slipping like sand through my fingers. Ramadan crept up on me, and I struggled to keep up with everything. But just like that, the month has passed, and Eid al-Fitr is now here, a shining beacon of hope and happiness.
It's a reminder that no matter how fast life may seem moving, there's always a moment to pause, reflect, and be grateful for the blessings that come our way. Eid al-Fitr is an important festival celebrated by Muslims worldwide, marking the end of the holy month of Ramadan.
It's a time of joy, celebration, and gratitude for completing the fast. Muslims come together to pray, exchange gifts, and enjoy feasts with family and friends. The festival is an opportunity to renew one's commitment to living a righteous life and strengthening one's relationship with Allah.
It's also a reminder of the importance of compassion, generosity, and community, as Muslims are encouraged to give to charity and reach out to those in need.
This is my 23rd Eid al-Fitr and my 13th Eid al-Fitr since I reverted. 'Reverting' is Islamic terminology, when someone converts to Islam from another religion. It is referred to as reverting rather than converting. This is because Islam believes every human is born in a state of submission to God. And that accepting Islam is a return to this natural state. So, the term "revert" is used to signify a return to this original state of submission to God.
Reflecting on my 13th Eid al-Fitr since reverting to Islam, I have yet to share much about this special occasion on my blog. I decided to dive deep into the topic of Eid and Ramadan, not just for my own personal growth. But also to share the beauty and significance of this festival with my readers. So, let's embark on a journey of discovery together!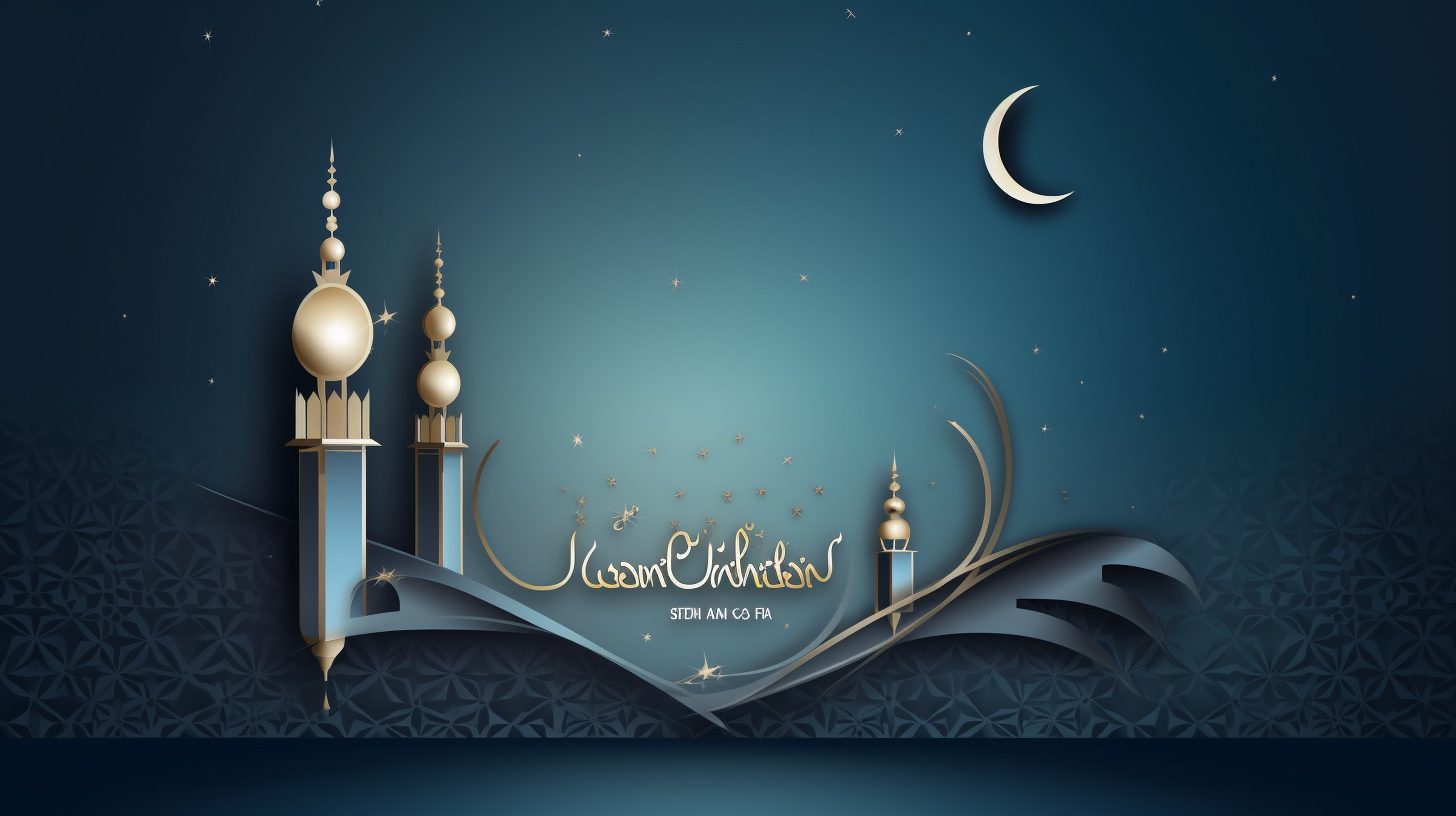 What is Eid al-Fitr, and Why is it Important?
The Origin of Eid al-Fitr
Eid al-Fitr is one of the two major festivals Muslims celebrate, the other being Eid al-Adha. It means "the festival of breaking the fast, " which marks the end of Ramadan, the holy month of fasting, prayer, and charity.
Eid al-Fitr was originated by Prophet Muhammad (peace be upon him), who received the first revelation of the Quran during Ramadan. He established Eid al-Fitr as a day of gratitude to Allah (God) for giving Muslims the strength and patience to complete their fast. He also encouraged Muslims to forgive and reconcile with each other today (I am still trying to learn the art of forgiveness).
The Significance of Eid al-Fitr
Eid al-Fitr is a time of joy, celebration, and gratitude for Muslims. It is a time to thank Allah for His blessings and mercy and to share them with others. It is also a time to reflect on the spiritual lessons learned during Ramadan, such as self-control, compassion, generosity, and discipline.
Eid al-Fitr is also a time of unity and diversity for Muslims. It is a time to celebrate their common faith and values and to appreciate their differences and variations. Eid al-Fitr brings together Muslims from different cultures, countries, languages, and backgrounds in a spirit of brotherhood and sisterhood.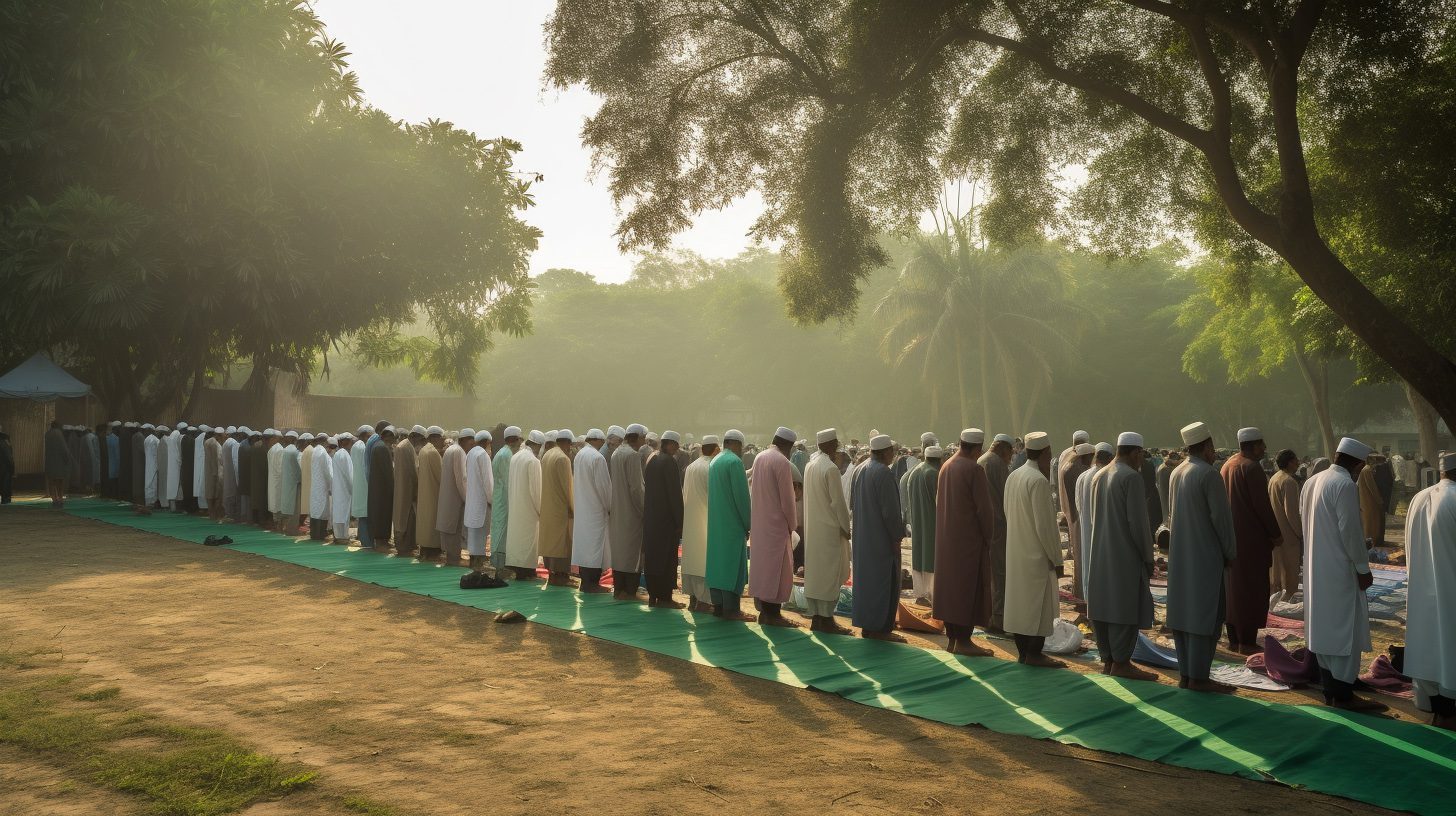 How is Eid al-Fitr Celebrated Around the World?
The Common Practices and Traditions of Eid al-Fitr
Eid al-Fitr is a festival of joy and gratitude for Muslims. It is also a festival of sharing and caring for others. There are some standard practices and traditions that Muslims follow during Eid al-Fitr, such as:
Performing the Eid prayer in the morning, preferably in a large congregation at an open area or mosque, followed by a sermon and supplication.
Giving charity (Zakat al-Fitr or Sadaqah al-Fitr) to the poor and needy before or after the Eid prayer to purify Ramadan fasts and help the less fortunate.
Visiting family and friends, exchanging greetings like "Eid Mubarak" and "Taqabbalallahu minna wa minkum", and giving gifts to children, relatives, and loved ones.
Wear new or clean clothes, apply perfume, and look your best.
Enjoying a festive meal with family and friends, including various cultural dishes and sweets such as biryani, korma, kebab, baklava, halwa, kunafa, and kheer.
The Diversity and Creativity
Eid al-Fitr is not only a festival of commonality but also a festival of diversity and creativity for Muslims. Muslims celebrate Eid al-Fitr differently according to their local customs, cultures, languages, and backgrounds. Some examples of the variety and creativity of Eid al-Fitr are:
Beautifying homes with decorations like lights, candles, lanterns, and banners. Muslims create a festive atmosphere for Eid al-Fitr, incorporating various colours, patterns, and symbols in their décor.
Engaging in fun activities with children and adults, such as playing games, visiting amusement parks or museums, and organising competitions or contests.
Listening to music, singing songs or nasheeds (Islamic songs), and reciting poems or stories related to Eid al-Fitr.
Reaching out to distant relatives or friends through cards, messages, phone calls, or video chats to stay connected and share Eid al-Fitr celebrations.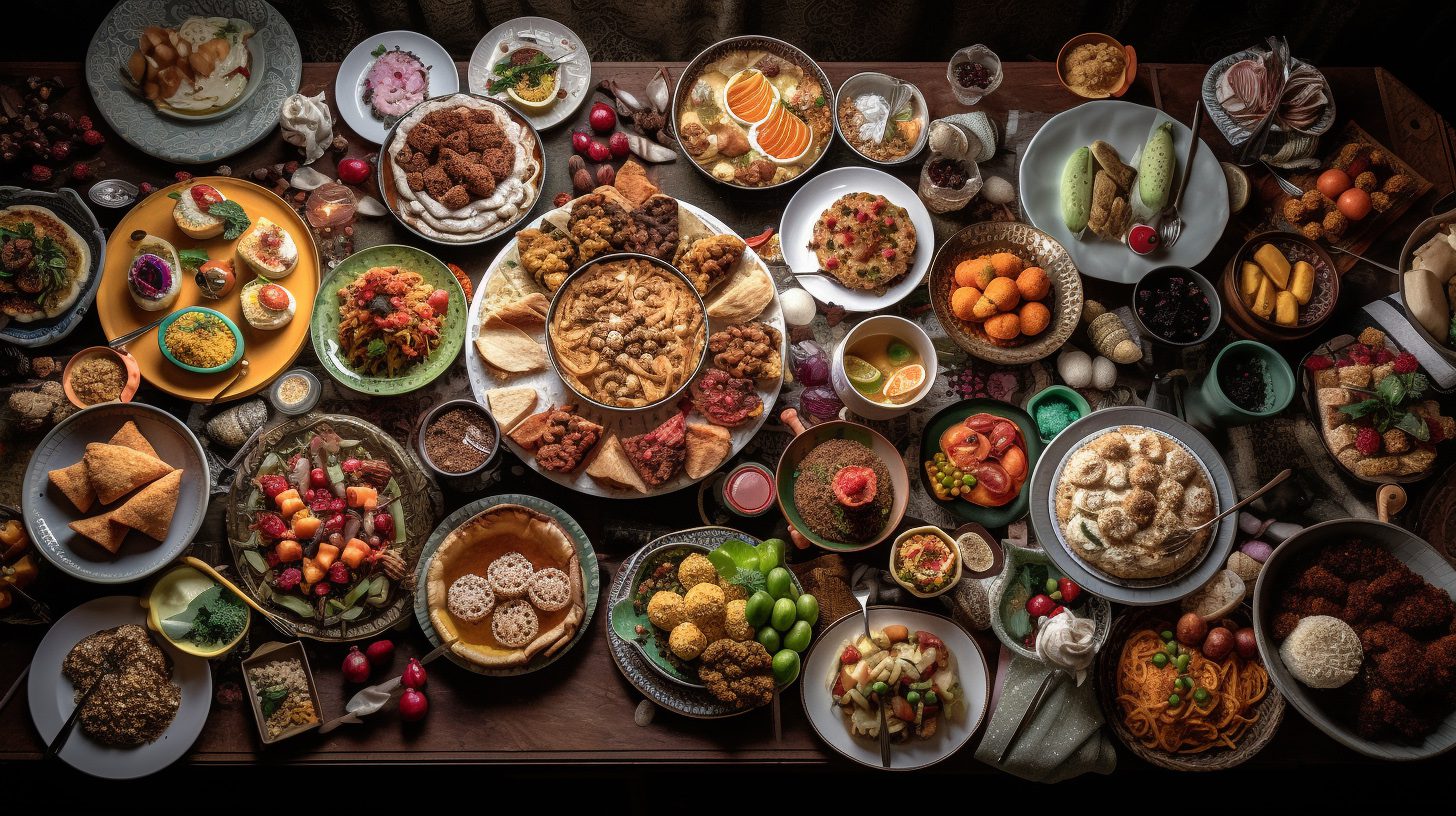 Some Interesting Facts and Trivia About Eid al-Fitr
The Date and Duration of Eid al-Fitr
Eid al-Fitr is a festival that depends on the sighting of the new moon, which marks the beginning of a new month in the Islamic lunar calendar. Therefore, the date of Eid al-Fitr varies from year to year and place to place.
In 2023, Eid al-Fitr is expected to start on the evening of Wednesday, 22 March and end on the evening of Friday, 21 April (which it did). However, this may change depending on when the new moon is sighted by local religious authorities.
Eid al-Fitr is usually celebrated for three days, one day less than Eid al-Adha, the other major Islamic festival. However, some Muslims may extend their celebrations for longer or shorter periods depending on their local customs and traditions.
The Public Holidays and Festivities
Eid al-Fitr is a public holiday in many Muslim-majority countries and some non-Muslim countries with a significant Muslim population. For example, in Indonesia, Malaysia, Turkey, Pakistan, India, Bangladesh, Egypt, Saudi Arabia, etc., Eid al-Fitr is a national holiday lasting several days.
Eid al-Fitr is not a public holiday in some non-Muslim countries, such as Australia, Canada, the UK, the USA, etc. Still, it is recognised and respected by the government and society. Therefore, Muslims may take a day off from work or school to celebrate Eid al-Fitr with their family and friends.
Eid al-Fitr is also a time of festivities and fun for Muslims. They may attend carnivals, fairs, concerts, shows, etc., organised by their local communities or mosques. Muslims may also watch fireworks or lanterns that light up the night sky. They may also exchange greetings and wishes with their neighbours and citizens of different faiths and backgrounds.
The Famous Muslims and Converts
Eid al-Fitr is a festival that celebrates the diversity and unity of Muslims worldwide. Many famous Muslims and converts celebrate Eid al-Fitr with their fellow believers. Some examples are:
Muhammad Ali: The legendary boxer who converted to Islam in 1964 and changed his name from Cassius Clay. He was known for his humanitarian work and social justice and peace advocacy. He died in 2016 at the age of 74.
Malala Yousafzai: The youngest Nobel Peace Prize laureate who survived a Taliban attack in 2012 for her activism for girls' education in Pakistan. She is now a global icon for human rights and education.
Zayn Malik: The former One Direction member who left the band in 2015 to pursue a solo career. He is one of the world's most popular and successful Muslim singers.
Janet Jackson: The sister of Michael Jackson, who converted to Islam in 2015 after marrying Qatari billionaire Wissam Al Mana. She is one of the best-selling artists of all time.
Dave Chappelle: The comedian and actor who converted to Islam in 1998 after being influenced by his brother. He is known for his stand-up comedy and sketch show Chappelle's Show.
Cat Stevens (Yusuf Islam): The British singer-songwriter who converted to Islam in 1977 and changed his name to Yusuf Islam. He is known for his hit songs from the 1960s and 1970s and his philanthropic work in education and humanitarian relief.
Ice Cube: The American rapper, actor, and filmmaker who converted to Islam in the 1990s. He is a founding member of the influential hip-hop group NW. A and has had a successful solo career as well.
Sinead O'Connor (Shuhada' Davitt): The Irish singer-songwriter who converted to Islam in 2018 and changed her name to Shuhada' Davitt. She is known for her hit song "Nothing Compares 2 U" and her outspoken views on various social and political issues.
Akon: The Senegalese-American singer, songwriter, and record producer born into a Muslim family. He is known for his hit songs like "Smack That" and "Lonely" and his philanthropic work, particularly in Africa.
Paul Osei-Owusu (that is me): A former semi-professional athlete turned elite performance coach and lead researcher. Dr Paul Osei-Owusu reverted to Islam in 2010. He has worked with organisations such as FIFA and Sport England. Excelling in coordinating multi-disciplinary teams and bridging communication gaps. Outside of his career, he shares his parenting experiences on his blog 'Nursing Daddy' and enjoys attending motorsport events.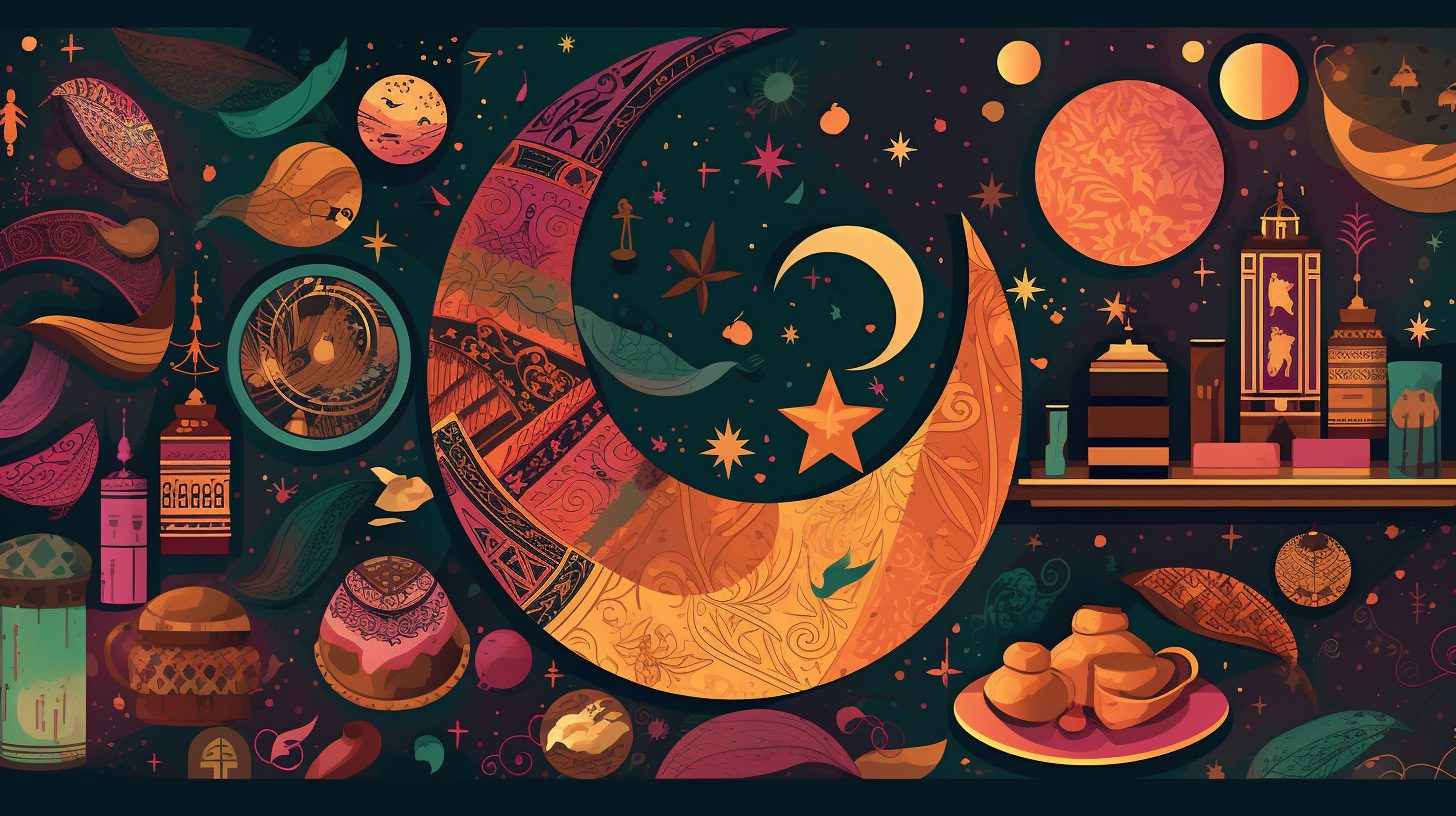 Conclusion and Wishes for Eid al-Fitr
A Summary of the Main Points
This post has delved into Eid al-Fitr's history, meaning, and how it is celebrated globally. In addition, I have examined this joyous occasion's standard practices, traditions, and diversity.
Additionally, I discussed the intriguing facts and notable Muslim figures associated with the celebration.
A Positive and Uplifting Message
Eid al-Fitr is a time of joy, gratitude, and care for Muslims worldwide. It offers an opportunity to express thankfulness to Allah for His blessings. And to share these blessings with family, friends, and the wider community.
It's period to reflect on spiritual growth during Ramadan and to integrate those lessons into daily life. The festival encourages celebrating shared faith and values while embracing our differences and promoting forgiveness, peace, and goodwill.
This blog post has provided valuable insights into Eid al-Fitr. Thank you for taking the time to read this post. I wish you a happy and blessed Eid, Eid Mubarak!
Sources